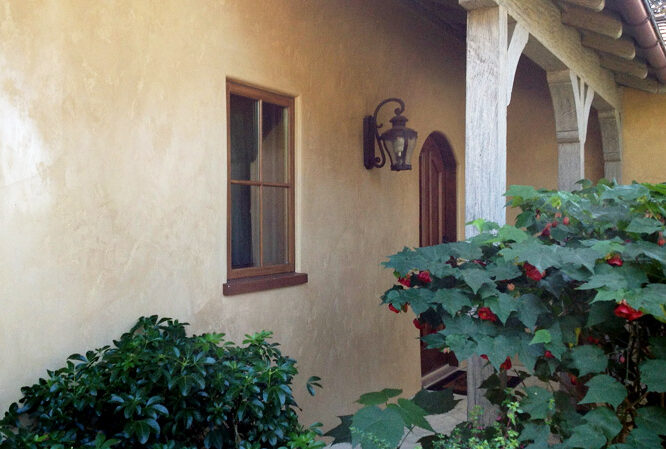 Carmel Valley Stucco Services
Stucco provides a tough, durable surface that's well-suited for our California climate. Whether you're building a brand-new building or your stucco siding needs an update, Jenkins Plastering is the only name to call. We're leaders for interior and exterior stucco in Carmel Valley, CA, offering superior service and exceptional results.
Stucco Installation Services

Investing in stucco, whether for the interior or exterior of your property, is a big deal. Stucco surfaces look great and function well for years to come—as long as they're installed the right way. The key to choosing the right stucco contractor is looking at experience and track record of successful installations—it's why so many clients, residential and commercial alike, choose us.
Textures, Colors and Finishes
We help you take full advantage of the unique textures of stucco, allowing you to choose the finish and colors you want. Our exterior coatings are exceptionally strong due to our application process—we can install interval color coats and third coats for maximum durability. Our skilled stucco technicians install facades with incredible texture that stands up to the elements and looks its best for years to come. We even specialize in foam molding for stucco, adding easy-install trim that complements the architecture of your home.
Decorative Stucco Solutions

As the leaders in decorative stucco in Carmel Valley, CA, we can add warmth and elegance to your home or business, inside and out. Whether you want to enhance the look of your fireplace with a beautiful stucco surround or you want to give the front entrance an eye-catching update, we're familiar with a wide range of decorative stucco techniques that help you make the most of this versatile, appealing material.
Unlock the Possibilities of Stucco

Jenkins Plastering are the leaders in stucco installation, serving residential clients throughout the Carmel Valley region. Call us today at 831-915-5007 to learn more about stucco finishes and the wide range of stucco applications we offer.